Google Photos 'Updates' revamp with a new logo, map view, enhanced search, and more. Here are the new updates with the Google Photos application (5.0.0.317714334)
Google Photos Revamp Updates
Search Giant, Google today announced major changes in the design of its increasingly popular Google Photos application. With the changes announced today, the application will become simpler and it will be much easier to find the photos or videos you are looking for.
Google Photos Update
Here are the new updates with the Google Photos application (5.0.0.317714334
).
New Logo.

Three-tab menu: Photos, Search, and Library.

Map View.

Stories-like 'memories'

.
#1) New Logo

There's a new design coming to the UI, including a brand-new icon. The new icon is still the colorful pinwheel, but it's more circle-y and totally flattened, which we've seen Google do with many of its redesigned stock app icons.
#2) Three Tabs Menu: Photos, Search, and Library.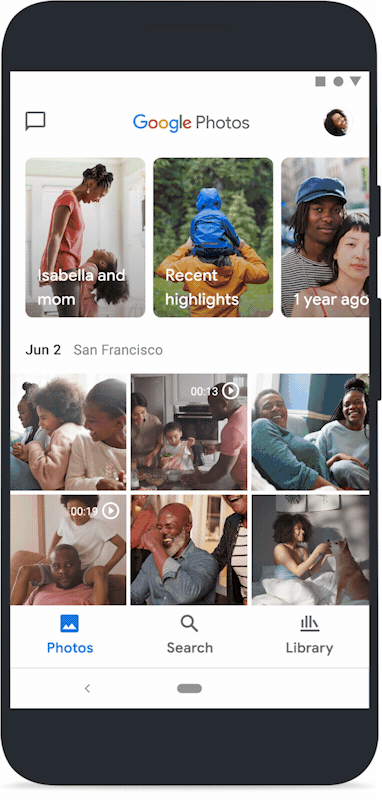 Google Photo's new
three tabs will simplify the search for photos and videos- The main 'Photos tab' contains all the photos and videos but users will see larger thumbnails, auto-playing videos, and less white space between photos. With the new 'Search Tab', users will see an interactive map view of photos and videos. One can pinch and zoom around the globe to explore photos of his or her travels.
"If you enable location from your device camera, Location History, or manually add locations, those photos have always been organized and searchable by place in Google Photos. Rolling out today, they'll also show up on the map view,"
The 'library tab' contains the most important destinations in your photo library, like Albums, Favorites, Trash, Archive, and more. This is also where you'll see the Print Store (in the US, EU, and CA) where you can order prints of your photos.
#3) Map View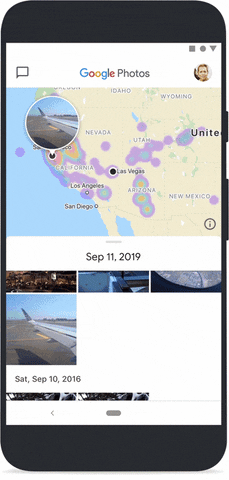 Google Photos adds a map to its interface- The new map feature can be found in the 'Search tab' and it will make searching for a photo or video by location a lot easier.
As you browse the map, a preview of the photos you took there will appear. This will allow you to find the photos you took on a particular trip, even if you no longer remember when it happened.
#4) Stories-like 'memories'.
Google has also moved automatic creations -- like movies, collages, animations, stylized photos, and more -- from the "For you" tab (which is now gone) and into Memories.
The company has also simplified the Google Photos icon while retaining that familiar pinwheel shape to remind you of past memories, that we had at the top of the old interface and that now takes more prominence. In addition to being larger, they include new moments, such as trips or compilations of the best photos we have taken. It is here where we will also find the automatic creations that Google photos generate for us.
The update is now rolling out on the
Google Play Store
on Android and Apple App Store on iOS. You can update the app right now and you'll see the new app icon, but you may not see the new UI right away as the update is server-side as well.